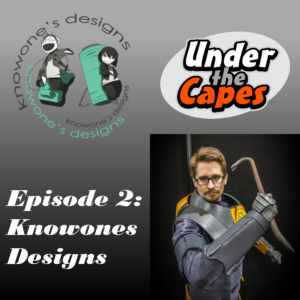 Great interview this week with cosplayer and Cosplay Melee contestant, Garrick from KnowOne's Designs!
Garrick and his wife Jackie started cosplaying years ago and in the last few years have turned that into a business where they do cosplay commissions, sell kits and tutorials and offer other content on Patreon and Youtube. They are also founders of the costume charity organization Project Hero.
You may know Garrick most recently from his appearance on the first season of Syfy's Cosplay Melee. He was on the third episode "Angels and Demons."
We discuss his appearance on Cosplay Melee, how he turned his passion into a full-time business, the importance of a professional portfolio, and more.
Here's a brief overview of what we discuss on the show:
Cosplay Melee
Tips for Future Cosplay Melee Contestants
Product Shoot – Importance of a Portfolio
Monetizing his Cosplay Business
Finding a niche in the cosplay community
Why you should immediately rebuild things
Here are the links to everything discussed during the show:
Be sure to follow Garrick on Twitter @KnowOnesDesigns and check out all his work and available kits at KnowOnesDesigns.com. You can also get some great cosplay tips by following him on Patreon, Facebook and Youtube.
Thanks for tuning in, be sure to subscribe on iTunes or Stitcher and leave your feedback in the comments below!
Please follow and like us: