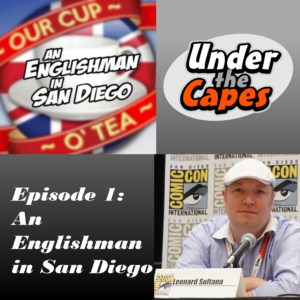 This is the very first episode of the Under the Capes Podcast!
When I first started exploring the geek community I was amazed how many people were creating brands around what they love. TV, movies, Comic-cons, cosplaying, gaming, comic books and every other fandom included fans and artists that were turning their passion into hobby businesses and even careers.
That's what inspired me to start this podcast. To show the community as a whole that it is possible to build a geek brand around the things you are passionate about and to highlight the people who are already succeeding at it.
I'm really lucky to have Leonard Sultana from An Englishman in San Diego as my very first guest.
Started in 2013, An Englishman in San Diego is an unofficial fan site and news resource for the San Diego Comic-Con, also covering news, updates, reviews and commentary for Con-related pop culture – all from an Englishman's perspective.
The weekly show, A Cup of Tea with An Englishman in San Diego covers comic-con related news and features organizers of all sorts of different conventions to give you a view of con culture
Here's a brief overview of what we discuss on the show:
How Leonard joined the Comic-con community
The origin of An Englishman in San Diego
Going from Comic-con attendee, to press, to moderator and interviewer
Making the most of a Comic-con Press Badge
Growing the weekly show A Cup of Tea with An Englishman in San Diego
The importance of a live show and audience feedback
Providing value to your audience
Finding your niche in the community
Leonard's upcoming conventions and appearances
Plans for An Englishman in San Diego's Future
Here are the links to everything discussed during the show:
Follow Leonard on Twitter @EnglishmanSDCC, head over to AnEnglishmaninSanDiego.com and be sure to tune in live to A Cup of Tea with An Englishman in San Diego on Youtube every Sunday (6pm GMT / 10am PT / 1pm ET)
Thanks for tuning in, be sure to leave your feedback in the comments below!
Please follow and like us: