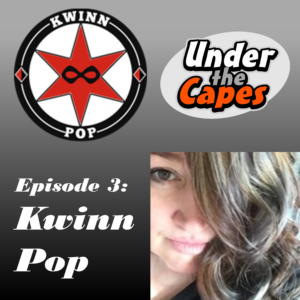 Happy Memorial Day entreprenerds!
I'm sure the long weekend has you apprehensive to get back to work tomorrow, so hopefully this week's episode will encourage you to work on your geek business!
This week's guest is Chrissie Rios from Kwinn Pop.
A gaming industry veteran for over 13 years, Chrissie has worked on many titles including Mortal Kombat, Blitz the League and the TNA Game. She is also the voice of Mortal Kombat's Frost and various other characters.
She started Kwinn Media in 2014 as a way to stay close to the gaming and wrestling community and it has since expanded into a team of 6 and multiple segments including Kwinn Pop, covering pop culture news, comic conventions and cosplay, Kwinn Wrestling and Kwinn Metal.
The new Kwinn Pop Shop carries the Kwinn Clothing Brand, Comic and Movie Collectibles, Funko Pops and Cosplay Gear.
In this episode we talk about her time working in the gaming industry, the Kwinn Pop team's trip to C2E2 last month and what's in store for the future of Kwinn Pop.
Here are the links to everything discussed during the show:
Head over to KwinnPop.com for the latest updates in pop culture, wrestling and metal and check out the Kwinn Pop Shop for some great merchandise and collectibles. Be sure to follow Kwinn Pop on Facebook, Instagram and on Twitter @KwinnPop, @KwinnWrestles, and @KwinnMetal.
If you like the show please let me know in the comments, subscribe, and give us a rating on iTunes or Stitcher. You can also reach out on Twitter @underthecapes and Instagram @underthecapespodcast.
Thanks for tuning in!
Please follow and like us: