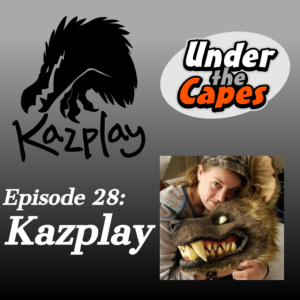 Greetings Entreprenerds!
My guest this week is Laura aka Kazul from Kazplay. She is an amazing cosplayer focusing on beasts and creatures. Her Hogger cosplay was recently the Blizzcon 2017 Costume Contest Winner. She details all of her creations in helpful video and picture tutorials.
In this episode, we discuss:
7:30 How Kazul chooses new projects
8:20 Competing in cosplay competitions like Blizzcon and tips for first timers
12:30 Turning Kazplay Into a Business
17:45 Creating Cosplay Project Hashtags and Promoting Kazplay on Social
23:30 Creating Quality Youtube Videos
29:00 Running Cosplay Panels
36:30 Monetizing Kazplay through products and patterns
44:05 One piece of advice for someone just starting out
Here are the links to everything we talked about:
Be sure to check out Kazplay on Youtube, Twitter, Instagram and Facebook for cosplay tutorials and information about upcoming conventions and view the items she has for sale on her Etsy.
I'd really appreciate any feedback either on Twitter @UndertheCapes, in the blog comments or through a rating on iTunes or Stitcher. Thanks and see you soon!
Please follow and like us: