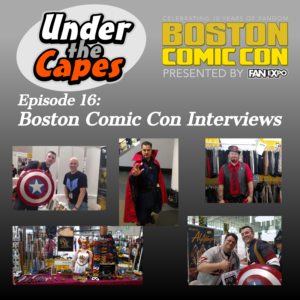 Greetings Entreprenerds!
This past weekend was Boston Comic Con! Over the weekend I interviewed some amazing artists, authors, cosplayers and business owners about their experience exhibiting at the con and growing their geek brand.
In this episode I share those interviews and talk about my own experience at the con!
You can look for interviews with:
I also discuss:
How FanExpo changed Boston Comic Con
Creating content during the show
Cosplaying
X-Gon Give it To Ya X-Men photoshoot meetup by Everyones Hero
Meeting Stan Lee and Rob Liefeld
Plans for New York Comic Con
Thank you to all my guests and everyone I met at Boston Comic Con for making it such a fun weekend!
I'd really appreciate any feedback either on Twitter @UndertheCapes, in the blog comments or through a rating on iTunes or Stitcher. Thanks and see you soon!
Please follow and like us: