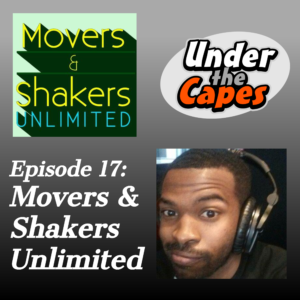 What does it take to become an innovator and icon within an industry? That's what the new series Movers and Shakers Unlimited will seek to answer. Created by Jerome Bourgeois and Brandon Troy, the goal of the series is to provide insight for aspiring entrepreneurs and artists to discover what it takes to join a particular field of interest and become successful at it.
My guest this week is the host/co-creator/executive producer of Movers and Shakers, Brandon Troy. He brings a lot of cool stories and insight because he started his career in the film industry early on as a child actor in films such as "Louisville" and "Mars Attacks," and the Showtime series, "Linc's." He also has experience as a director, writer, & editor and has been an entertainment reporter for various outlets.
In this episode we talk about:
Maximizing your production schedule
Opening yourself up to new connections and opportunities
Importance of brand recognition
Being able to improvise in live interviews
Just get started 26:00
Tips for doing interviews at conventions
Taking advantage of student and community resources
Building your team
All them good links:
Be sure to check out episodes of Movers and Shakers Unlimited at 8pm EST on Cox 9, 11, 74 & 77 or view episodes online at moversshakersunlimited.com or cox11.com and follow on Twitter @MoveNShakeUnltd  and on Facebook, Instagram and YouTube. Also follow Brandon on Twitter @BrandonTroyENT and Instagram @BrandonTroy_ENT
I'd really appreciate any feedback either on Twitter @UndertheCapes, in the blog comments or through a rating on iTunes or Stitcher. Thanks and see you soon!
Please follow and like us: