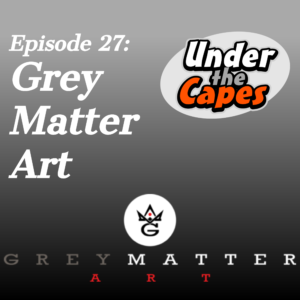 Greetings Entreprenerds!
My guests this week are Mike and Jared, co-founders of Grey Matter Art. Founded in New York in 2013, Grey Matter Art is a limited edition, studio licensed film and entertainment poster company with many new and exciting projects on the horizon. By working with amazing artists, securing the rights from some of the top studios and bringing in input from their fans they have released some incredible pieces and built a very successful business around their passion.
In this episode we discuss:
Building relationships with artists
Gaining licenses with studios
Vending at New York Comic Con
Creating Comic Con Exclusives
Collecting input from fans for new ideas
Here are the links to everything we discuss:
Be sure to check out all of the pieces for sale at GreyMatterArt.com and follow them on social on Twitter, Instagram and Facebook. If you're reading this in time, check out their Black Friday Mystery Tube sale for a great deal on some really cool signed posters.
I'd really appreciate any feedback either on Twitter @UndertheCapes, in the blog comments or through a rating on iTunes or Stitcher. Thanks and see you soon!
Please follow and like us: