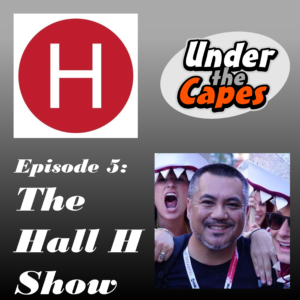 Greetings entreprenerds!
This week I talk with Aaron Nabus from HallH.com. Hall H is a news and media blog covering the Comic Book and Pop Culture universe – providing exclusive interviews with artists, writers and other creatives as well as introspective commentary about comic books, movies, television, anime, manga, collectibles, poster art, San Diego Comic-Con and more!
Co-founded by Alex Benedicto, Aaron Nabus and Ed Santos in June 2014, its mission is to pay homage to the past while also looking forward to the future by being a promoter of emerging talent and non-mainstream works that deserve more attention.
Aaron and I discuss the mission they have for Hall H, SDCCfit and this year's San Diego Comic-con. This week's show includes:
How Aaron, Alex and Ed formed Hall H
Meeting and reaching out to people to interview
How their podcast works with a loose program and formula
The growth of SDCCfit
Hall H's goal for SDCC2017
There are a ton of links this week as Aaron highlights plenty of comic industry professionals and people that are worth a follow. Check them out:
Be sure to follow Aaron and Hall H at HallH.com, on Twitter at @HallHdotcom, @SDCCfit and @AaronNabus and on Facebook.
Next week I'll be talking with Wade from Mulehorn Gaming about how they've created their long running podcast.
I'd really appreciate any feedback either on Twitter @UndertheCapes, in the blog comments or through a rating on iTunes or Stitcher. Thanks and see you next week!
Please follow and like us: