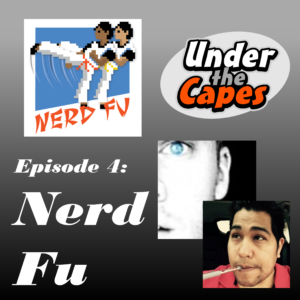 Welcome to the show, entreprenerds!
This week I'm talking to the founders of Nerd Fu, Steve and Sully. Nerd Fu launched in April 2013 and now shares the latest and greatest in nerd news and needs including Movies, TV, collectibles, gaming, comics, conventions & more. They also host the weekly Nerd Fu podcast.
We cover a lot of really great stuff including:
Why to think of your nerd brand like a business
Attending ComicPalooza
Creating content during comic-cons
Importance of planning out your podcast episodes
Promoting through different channels
Creating giveaways
Plans for growing the Nerd Fu brand
Advice for going to San Diego Comic Con
Here are the links to everything we discussed during the show:
Head over to TheNerdFu.com and follow them on Twitter @TheNerdFu and Facebook at /NerdFu.
This week I tried something new by having my guests record their audio separately and combining our tracks after rather than recording directly off Skype so please let me know how this episode sounds!
Next week I'll be talking with Aaron from The Hall H show which turned into a really cool and in-depth discussion that I think you'll get a lot out of.
I'd really appreciate any feedback either on Twitter @UndertheCapes, in the blog comments or through a rating on iTunes or Stitcher. Thanks and see you next week!
Please follow and like us: