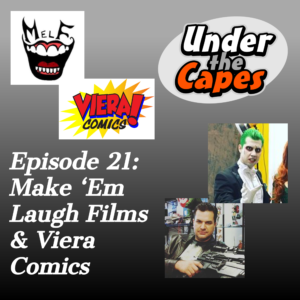 Greetings Entreprenerds!
My guests this week are Jason and Peter from Make 'Em Laugh Films and Viera Comics. I first met Jason and Peter at Boston Comic Con last month where they interviewed me for their cosplay interview video and Peter agreed to be interviewed by me for my Boston Comic Con Recap Episode.
Make 'Em Laugh Films is a group of YouTube stars/popular cosplayers with a simple mission…to bring you endless laughter! Their videos have been featured on IMDb, Cinema Blend, Comicbook.com, Comic Book Resources, the Richest and more! As cosplayers, they regularly attend conventions across the nation to network with likeminded people, film new videos and host panels.
Their base of operations is Viera Comics, owned by Peter. The comic book shop in Melbourne, FL hosts regular events and has gained national recognition thanks to the great work of Peter and Jason.
We talk about a lot of great topics including:
How they come up with ideas and film their YouTube videos
How to build a cosplay community
Attending comic conventions
The importance of consistency in creating YouTube content
Doing panels at Comic Cons
Much more
Here are the links to some of their videos from Boston Comic Con and their event this weekend:
Be sure to check out Make Em Laugh Films on YouTube and give them a follow on Facebook, Twitter and Instagram and head to Viera Comics and follow them on Facebook, Twitter and Instagram.
I'd really appreciate any feedback either on Twitter @UndertheCapes, in the blog comments or through a rating on iTunes or Stitcher. Thanks and see you soon!