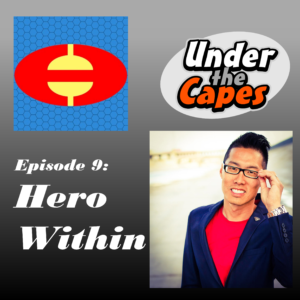 My guest this week is Tony Kim aka Crazy4ComicCon, Founder and CEO of Hero Within.
Founded in 2010, Crazy4ComicCon is a blog, podcast and resource for first-time and veteran attendees of San Diego Comic-Con.
Founded only a year ago, Hero Within is on a mission to reshape men's pop culture fashion with integrated, empowering and sophistaicated geek style. They offer some really great, professional looking pieces like the Batman blazer and the Wonder Woman jean jacket.
Hero Within will be on the convention floor at booth #1019 and here is the info on all the other panels and events Tony will be part of:
Game of Bloggers Party – Thursday 9pm-midnight, House of Blues, 1055 Fifth Ave.
Building a Geek Brand – Friday 12pm-1pm, Marriot Marquis Grand 1 &2
Let's Get Fashionably Nerdy! – Friday 1pm-2pm, Marriot Marquis Grand 1 &2
Pop Culture Shark Tank – Friday 3pm-4pm, Room 32AB
Onstage at the DC Comics booth – Friday 4pm
The Business of Geek Fashion – Saturday 10am, Marriot Marquis Grand 1 & 2
Red Wedding Afterparty – Saturday 9:30pm-midnight, House of Blues, 1055 Fifth Ave.
In this episode we discuss:
Why you brand needs to solve a specific problem
Moderating Panels
Collaborating with other creators
Hosting an event at SDCC
Getting Media Coverage
Future plans to grow the Hero Within brand
Importance of being an original
Links to all the good stuff:
I'll be sharing an extra episode with you this week! Look for my interview with Rob Salkowitz, author of Comic-Con and the Business of Pop Culture on Thursday!
I'd really appreciate any feedback either on Twitter @UndertheCapes, in the blog comments or through a rating on iTunes or Stitcher. Thanks and see you soon!
Please follow and like us: