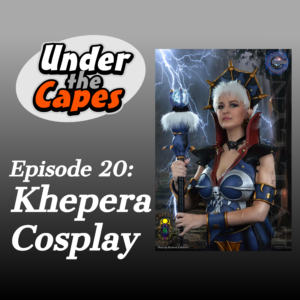 Greetings Entreprenerds!
My guest this week is cosplayer Khepera Von Stitches. Khepera is an award winning cosplayer at many cosplay competitions, has judged competitions and has over 25 years of costume making experience. She is best known for her award-winning Evil Lyn.
This weekend Khepera will be a cosplay guest at Granite State Comic Con! Be sure to stop by her table if you'll be attending.
In this episode we cover a lot of great topics including:
Her first cosplay competition experience
Plans for Granite State Comic Con
Her secret project being unveiled at New York Comic Con
Setting commission rates and understanding what you're worth as an artist
Managing your time
Working with new materials such as electronics, worbla and more
Organizing an annual cosplay competition on Free Comic Book Day
Using your brand's reach to spread a positive message
Why you should avoid comparing yourself to other artists or entreprenerds
Look for Khepera at Granite State Comic Con this weekend and at NYCC next month. You can also follow her on Facebook, Twitter, or Instagram. You can also buy her prints on Store Envy.
I'd really appreciate any feedback either on Twitter @UndertheCapes, in the blog comments or through a rating on iTunes or Stitcher. Thanks and see you soon!
Please follow and like us: