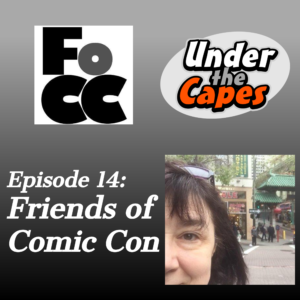 Greetings Entreprenerds!
This weekend is Boston Comic Con! My guest this week will be attending the convention (as will I). It's Alyssa Franks from Friends of Comic Con.
Friends of Comic Con started as an online forum and message board for attendees of San Diego Comic Con to share wisdom with newcomers and make friends with people attending the con. The forum has grown to include New York Comic Con, C2E2 and nearly every other convention. The blog also covers con culture, pop culture, entertainment news, cosplay and much more. Alyssa hosts A Cup of Tea with An Englishman every Sunday where her and Leonard, An Englishman in San Diego, talk upcoming conventions and entertainment news with convention organizers and other industry professionals.
Now, Friends of Comic Con is multi-platform organization dedicated to creating a friendly, innovative community where people can collaborate, learn, create, and expand in an effort to promote individual expression and enjoyment of comics, fandoms and pop culture.
In this episode we discuss:
Learning how to roll with things during a show
Choosing whether to work or enjoy a convention
How FanExpo might change Boston Comic Con
How other conventions compare to San Diego Comic-Con
Allowing software to grow with your site
Here are the links to everything:
Make sure to follow Alyssa on Twitter @FriendsofCCI, join the forum at FriendsofCC.com/forum and check out the blog at FriendsofCC.com
I'd really appreciate any feedback either on Twitter @UndertheCapes, in the blog comments or through a rating on iTunes or Stitcher. Thanks and see you soon!
Please follow and like us: