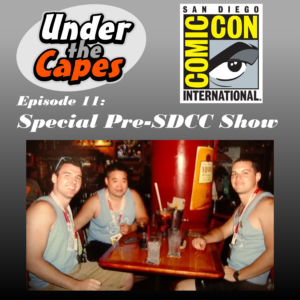 This week's episode is a special discussion about everything going on this week at San Diego Comic-con! I'm joined by my friends Lee and Rob as we break down our top choices for panels, booths, offsites, parties and more. You'll also be treated to clips from all 10 past Under the Capes guests where they answer "what one piece of advice do you have for someone making the most out of SDCC?"
We cover a lot in this episode and have a ton of fun doing it. If you're looking to jump around, here is when you can find everything:
And here's everything we discussed in a really disorganized manner:
Panels
20th Century Fox Hall H Thursday 11am – Kingsman, Deadpool

Inhumans Ballroom 20 Thursday 615pm

Building a Geek Brand Friday 12 Marriott Grand Marina

Con Man Ballroom 20 Friday 2:45

Pop Culture Shark Tank 32AB

Defenders Hall H Friday 5:15

WB Hall H Saturday 11am (Justice League, Aquaman, Ready Player One, Blade Runner 2049)

Marvel Hall H Saturday 5pm (Black Panther, Thor: Ragnarok, Infinity War?)

Supernatural Hall H Sunday 10:30 am
Exhibit Hall
Small Press O-08 Justin Harder – The Last Chimichanga Poster + other funny Deadpool drawings https://twitter.com/clausstudios/status/864169931180449792

Hero Within Booth #1019

https://herowithinstore.com/

Funko #5341 – Sully from NerdFu

#2913 Del Rey – Iron Gold Character Card Pierce Brown Signing Sunday at 11:30

http://sdccblog.com/2017/07/zenescope-entertainment-holding-gelato-eating-contest-at-comic-con-more/
Magic
Magic Tournament Schedule

Planeswalker Challenge
Offsites
The Marvel Universe ft artist James Mulligan at Chuck Jones Art Gallery Wednesday 7-10

SYFY Live from Comic-con with Zachary Levi

Expanse Escape Room http://sdccblog.com/event/the-expanse-escape-room/2017-07-20/

The Netflix Experience at Hilton Gaslamp (Stranger Things, Defenders, 10:45 Friday Defenders photoshoot) http://sdccblog.com/event/the-netflix-experience/2017-07-20/

Vikings Funeral Friday 7pm at Embarcadero Marina Park South http://sdccblog.com/event/vikings-funeral/
Parties
Game of Bloggers at House of Blues Wednesday 9pm

Thursday 8pm IGN and Sony Present The Dixie Pig at The Tipsy Crow

Thursday 9pm Rave of Thrones at Omnia

Syfy fan party. Featuring musical performances, DJ sets and a live show by the Spazmatics. Free. First come, first-served. New Childrens Museum Thursday and Saturday 9 p.m.-2 a.m.

MTV Fandom Fest (live music, giveaways, food) Friday 7-11 at Petco Park

Heroes Brewfest Saturday 2-8 at Waterfront Park

Red Wedding Afterparty hosted by Hero Within at House of Blues Saturday 9pm
I'd really appreciate any feedback either on Twitter @UndertheCapes, in the blog comments or through a rating on iTunes or Stitcher. Thanks and see you soon!
Please follow and like us: