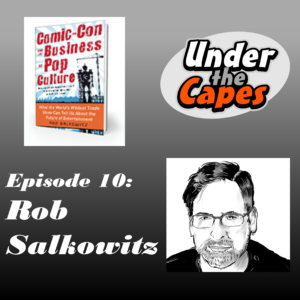 My guest this week is Rob Salkowitz, author of Comic-con and the Business of Pop Culture: What the World's Wildest Trade Show Can Tell Us About the Future of Entertainment. Rob writes, speaks and consults on the social implications of digital media and the digital generation. Author of Young World Rising and Generation Blend, Rob is Director of Strategy and Content for MediaPlant, LLC in Seattle and teaches at the University of Washington. He writes about the business of comic books and the pop culture industry for Forbes and ICv2 and frequently speaks and moderates at San Diego Comic Con and other events.
Rob will be a panelist on and moderating many panels at San Diego Comic-con next week, including:
Law and Comics – Tuesday 4:30pm-5:30pm, San Diego Central Library, 330 Park Boulevard
How to Get News Coverage – Thursday 10:30am, Room 8
Celebrate 50 Years of Underground Comix with Denis Kitchen – Thursday 11am, Room 9
Pop Culture Shark Tank – Friday 3pm, Room 32AB
The 7 Comic (and Card) Shop Archetypes: Who Triumphs, Thrives, and Survives – Friday 6:30pm, Room 26AB
Comics Entrepreneur Secrets – Saturday 5 pm, Room 28DE
Spotlight on Sarah Glidden – Sunday 1pm, Room 4
In this episode we discuss:
Future of San Diego Comic-con and the comic book industry
Making it in the comics industry today
Pop Culture Shark Tank
The growth of Digital Comics
Tips for Pop Culture Writers
Mainstream publications covering comics
Experiences moderating panels
Future projects he's working on
Importance of being open to new opportunities as a creator or entrepreneur
Not giving up on your dreams
Here are the links to everything we discussed:
If you're interested in comic-con or the comics industry I highly recommend Rob's book, Comic-con and the Business of Pop Culture which offers a really entertaining and detailed look at the future of the pop culture industry
You can read more of Rob's work on Forbes or ICv2, follow him on Twitter @robsalk or check out robsalkowitz.com.
This Monday I'll be posting a special pre-SDCC episode where I'll have some friends on to talk about our plans for the con and I'll be sharing quick clips from past guests where they share tips for making the most out of San Diego Comic-con. Should be a lot of fun and give you some great tips as you make your way to San Diego.
I'd really appreciate any feedback either on Twitter @UndertheCapes, in the blog comments or through a rating on iTunes or Stitcher. Thanks and see you soon!
Please follow and like us: