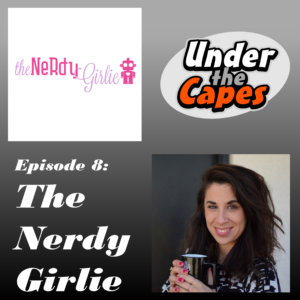 This week's guest is Megan from The Nerdy Girlie!
TheNerdyGirlie.com is a great resource for first time comic-con attendees and for nerdy girls in general. In addition to the comic con tips she provides ideas for everyday cosplay fashion and nerd crafts.
If you're a fellow blogger you'll get a chance to meet Megan at the Game of Bloggers event on the Wednesday of Comic-con at the House of Blues.
On this episode, we talk about:
Being yourself and letting your audience come to you
Managing a blog and a full-time job
Being outgoing and talk to people at the con
Kristen – SuperSpaceChick
Tony Kim – Crazy4ComicCon
Be sure to follow Megan at thenerdygirlie.com and @TheNerdyGirlie on Twitter, Facebook and Instagram.
There will be 3 new shows before SDCC! Stay tuned for Hero Within Founder/CEO, Tony Kim, on Monday July 10, Rob Salkowitz on Thursday July 13, and a special pre-con episode on Monday July 17.
I'd really appreciate any feedback either on Twitter @UndertheCapes, in the blog comments or through a rating on iTunesor Stitcher. Thanks and see you next week!
Please follow and like us: