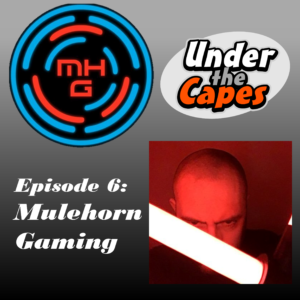 Greetings entreprenerds!
This week's guest is Wade, also known as Mulehorn117, from Mulehorn Gaming.
He started the Mulehorn Gaming Podcast in 2015 and it has since evolved into a website and team of 15 providing a complete destination for gaming news, editorials, and general geekery!
Wade and his team provide an honest take on the things happening in the video game industry including coverage of movies, tech, and anything else that interests gamers. The weekly podcast is run and co-hosted by Wade, Thaddeus Prime, DirtyBombz and Circuit8.
In this episode we talk about:
How identifying the talent within the Mulehorn Gaming team helped them make the website and podcast look and sound professional
How the team covers events like PAX South
How building relationships in the geek and video game community has been the key to their growth
Here's are the links to all the good stuff we talk about:
Be sure to follow Wade and Mulehorn Gaming at MulehornGaming.com, and @MulehornGaming.
Next week I'll be talking with Casey, Editor in Chief of Geeks World Wide about how they've built a network of bloggers and podcasters.
I'd really appreciate any feedback either on Twitter @UndertheCapes, in the blog comments or through a rating on iTunes or Stitcher. Thanks and see you next week!
Please follow and like us: