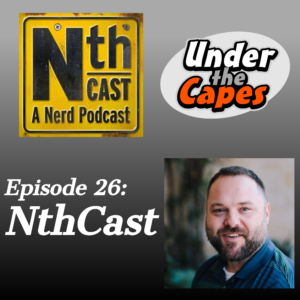 Greetings entreprenerds!
My guest this week is Josh Wade, co-creator of The NthCast, Fear the Nth Cast, and Once UpoNth a Time podcasts. As an experienced podcast engineer and producer, Josh has done panels at Comicpalooza to offer advice to other podcasters and shares some of that advice with us.
In this episode we talk about:
How the NthCast got started
The importance of having a goal for your podcast
Engaging with fans in person and over social media such as Twitter and Facebook Groups
What podcasting equipment to get started with
Why you should find a specific niche around something you love to talk about
Joining your audience community and providing value rather than pushing your show
Much more
Be sure to listen to Josh on the Podcasting 105 Panel at Comicpalooza 2017.
You can follow Josh on Twitter @JoshWadeFM and listen to all of his shows here:
I'd really appreciate any feedback either on Twitter @UndertheCapes, in the blog comments or through a rating on iTunes or Stitcher. Thanks and see you soon!
Please follow and like us: