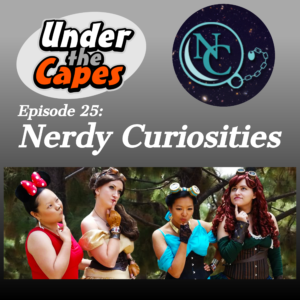 Greetings Entreprenerds!
My guests this week are Roni, Jaime, and Rachel from Nerdy Curiosities. After coming together through the NerdHQ community at San Diego Comic Con; Roni, Jaime, Rachel and Jen started a blog to share their nerdy interests and hobbies. The blog covers Nerdy Reports with the latest headlines in pop culture and comic conventions, Nerdy Designs with nerd fashion, accessories and cosplay, and Nerdy Eats for nerd-inspired food and drink recipes.
Their non podcast podcast, Nerds R Us, also interviews other nerds and makers.
In this interview we talk about:
How Nerdy Curiosities grew from the Nerd HQ fan community
Challenges of organizing the non podcast podcast
Reaching out to guests for Nerds R Us
Benefits of covering Comic Cons from a fan's perspective instead of press
Reporting from smaller panels at Comic Cons
The absence of NerdHQ at San Diego Comic Con 2017
How to avoid internet and real life trolls
Be sure to check out Nerdy Curiosities at NerdyCurious.com and follow them on Facebook, Twitter, Instagram and YouTube.
I'd really appreciate any feedback either on Twitter @UndertheCapes, in the blog comments or through a rating on iTunes or Stitcher. Thanks and see you soon!
Please follow and like us: