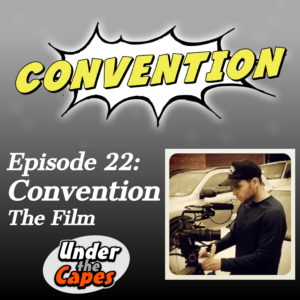 Greeting entreprenerds!
My guest this week is Dan Nastro, the writer, director, cinematographer and editor of Convention.
A young woman is introduced to the colorful, bewildering and often weird world of a NY comic convention by her new boyfriend, a convention-loving fanboy on the rebound from a recent break-up. The short film was shot on location at New York Comic Con using the convention itself as one of the main characters.
In this great discussion we talk about:
Dan's career in filmmaking
Drawing from real life for the story of Convention
Finding the right cast
Challenges of filming guerrilla style at Comic Con
Plans for releasing Convention
Future plans for more films or TV shows with Comic Con as the setting
Plans for New York Comic Con 2017
Head to ConventiontheFilm.com to view the trailer and learn more about the story, cast and crew. Also be sure to follow them on Twitter @ConventionFilm and on Facebook.
If you're attending NYCC2017 next week be sure to look for Dan and the cast and follow them on Twitter to learn more about any special events they may have during the week!
I'd really appreciate any feedback either on Twitter @UndertheCapes, in the blog comments or through a rating on iTunes or Stitcher. Thanks and see you soon!
Please follow and like us: