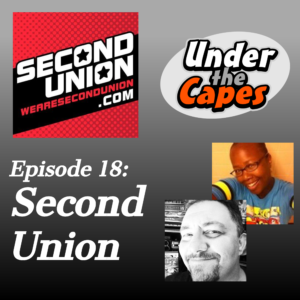 Greetings Entreprenerds!
My guests this week are Jeff and Karma from Second Union.
Second Union is a website (and soon a podcast) devoted to pop culture and entertainment news, reviews and interviews! The various sections of their website include movies, television, video games, comic books & graphic novels, music, toys & collectibles. Their YouTube channel also offers collectibles unboxing videos, San Diego Comic Con recaps and more.
I talk to Jeff Andrews, Founder, Creative Director and Editor in Chief; and Karma Savage, Co-Founder, Art Director and Senior Editor, about how they've built a great site and following.
We discuss:
How growing up in the 70s and 80s influenced Second Union
Researching other sites and brands in the space to find your own unique approach
Managing their team of 7 contributors
Promoting the brand at San Diego Comic Con
Expanding into multimedia through YouTube and podcasts
How Jeff's experience launching two other sites helped create Second Union
Be sure to follow Second Union on Facebook, Twitter, Instagram, and YouTube. If you'd like to show your support for Second Union, there are now two ways you can do that – become a Patreon supporter: http://bit.ly/2Upatron or make a purchase from their online shop: http://bit.ly/2Utees
I'd really appreciate any feedback either on Twitter @UndertheCapes, in the blog comments or through a rating on iTunes or Stitcher. Thanks and see you soon!
Please follow and like us: